Bea Miller ha partecipato alla seconda edizione dell'ora defunto X FACTOR USA, famoso più che altro perchè è l'unico reality ad aver avuto Britney Spears come giudice, che detiene ancora il primato come giudice più pagata per un talent (con la modica cifra di 15 milioni di dollari!).
Bea Miller era proprio una delle "teens" affidate all'epoca a Britney Spears, coach di quella categoria (ringraziamo tutti X FACTOR USA per averci donato i meme di Britney Spears, i più belli della storia).
Bea Miller si classificò nona quell'anno (2012), quindi molto bassa, ma non sparì dalla circolazione (a differenza di molti altri concorrenti arrivati molto più in alto, di lei, o già solo dei primi classificati ad X FACTOR USA!) e dopo 3 anni da allora, compiuti i 16 anni, sforna il suo primo album solista : "Not An Apology".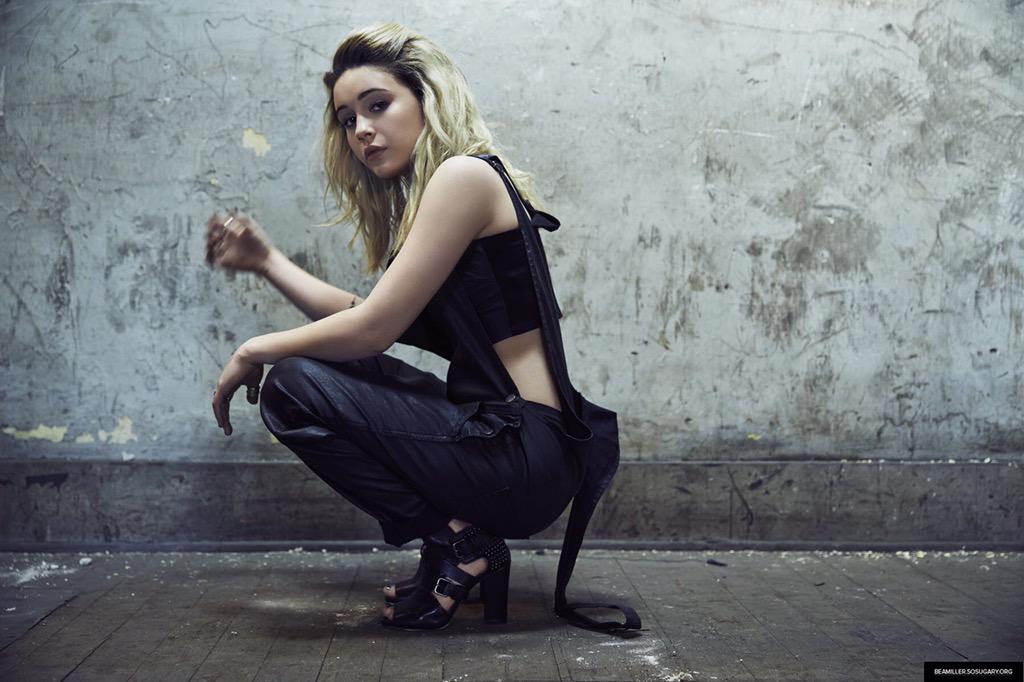 "Not an Apology" è un disco in puro stile pop rock, anticipato dal singolo "Young Blood" (co-scritto anche da Bea Miller) e seguito dall'attuale singolo "Fire N'Gold", due ottimi esempi di canzoni da cantare a squarciagola.
Seppure i due singoli non abbiano raggiunto vette superlative nella Billboard Hot 100 ("Young Blood" non vi è mai entrata mentre "Fire N'Gold" per ora ha raggiunto la #78), "Not an Apology" ha debuttato alla #7 nella Billboard 200, classifica dei dischi piu venduti in USA, con oltre 33.000 copie vendute nella prima settimana, senza altro un buon risultato per Bea Miller se si pensa ai singoli, quasi totalmente snobbati in termine di vendite.
Bea Miller ha tutte le carte per diventare la Avril Lavigne degli anni 2010s, sia per sonorità che per look, anche se sembra più "seria" della Lavigne. Diciamo una Avril Lavigne dark? Diciamolo.
Non amo fare paragoni, ma nella musica sono inevitabili specie se servono ad introdurre un'artista a chi non la conosce, per avvicinarsi ai suoi brani con più curiosità.
Cosa ne pensate di Bea Miller? M'interessa in particolare il parere dei fans di Avril, ahah!
Tracklist di "Not An Apology"

No.
Title
Writer(s)
Producer(s)
Length
1.
"Young Blood"

Bea Miller
Mike Del Rio
Matt Parad
Phoebe Ryan

Del Rio
3:39
2.
"Fire N Gold"

Nolan Sipe
Freddy Wexler
Jarrad Rogers

Rogers
3:31
3.
"I Dare You"

Julia Michaels
Mitch Allan
Oh, Hush!

3:26
4.
"Paper Doll"

Miller
Matthew Morales
James Morales
Julio Rodriguez
Autumn Rowe
Shane Stevens

The Elev3n
3:36
5.
"Perfect Picture"

Miller
Allan
Jason Evigan

The Suspex
3:07
6.
"Enemy Fire"
Busbee
3:51
7.
"Force of Nature"

Ashley Gorley
Andrew Harr
Jermaine Jackson
Julia Michaels

The Runners
Alex Delicata

4:01
8.
"This Is Not an Apology"

Lucas Banker
Travis Huff
Matt Squire
Ali Tamposi

3:25
9.
"Dracula"

Miller
CJ Baran
Kara Dioguardi
Skyler Stonestreet

CJ Baran
2:52
10.
"We're Taking Over"

Andrew Goldstein
Emanuel Kiriakou
Demi Lovato
Lindy Robbins

Denis Kosiak
3:27
11.
"Rich Kids"

Benji Madden
Joel Madden
Squire

Squire
2:44
---
---
Sempre con un ombrello, col suo adorato orologio chic e pronto per un'altra, unica, lezione d'inglese…il nostro #MrAUBERGINE e le sue VIDEOLEZIONI D'INGLESE PER ITALIANI , il professore  più "particolare" d'Italia! Un prodotto, IbridiAtipicI
Se vi è piaciuto, ricondividete sul vostro profilo!
Yours,